Rainbow is one of the UK's leading home care provider and winners of the best community organisation 2019. Rainbow enables individuals to maintain independence by assisting them with as much or as little home support as they need daily. "A desire to make a real difference wherever we operate has always been our primary objective. We have served the communities across England as a domiciliary care provider since October 2005." Florence Britton – Managing Director of Rainbow Care Solutions.
It all started in October 2005 in a spare room in Redditch when we first started to provide home care service following registration with the regulator. It has always been our understanding that everyone receiving care is an individual with individual needs. It was from there that we opened our other branches and now franchising our services.
admin@rainbowcaresolutions.co.uk
Personalised care and help for people living with dementia.
Suffering from dementia is incredibly tough for both the individual and their family, but you don't have to struggle alone with the help of the professionals at Rainbow Care Solutions. Our care team has provided assistance across the UK since 2005, utilising the best practices and providing advice to ensure your loved one receives the care they deserve on a day-to-day basis.
Arrange care
At Rainbow care solutions we understand getting a diagnosis of any form of dementia can be daunting, and having care at home can be a huge step. Our broad range of services can support you to remain at home with dementia.
For people with a new diagnosis, we can provide companionship to enable you to continue to take part in your hobbies and activities in your home. The care and support we provide are tailored to an individual's capabilities and preferences as can be adapted as your needs change.
Have a look at our Staffordshire branch team below.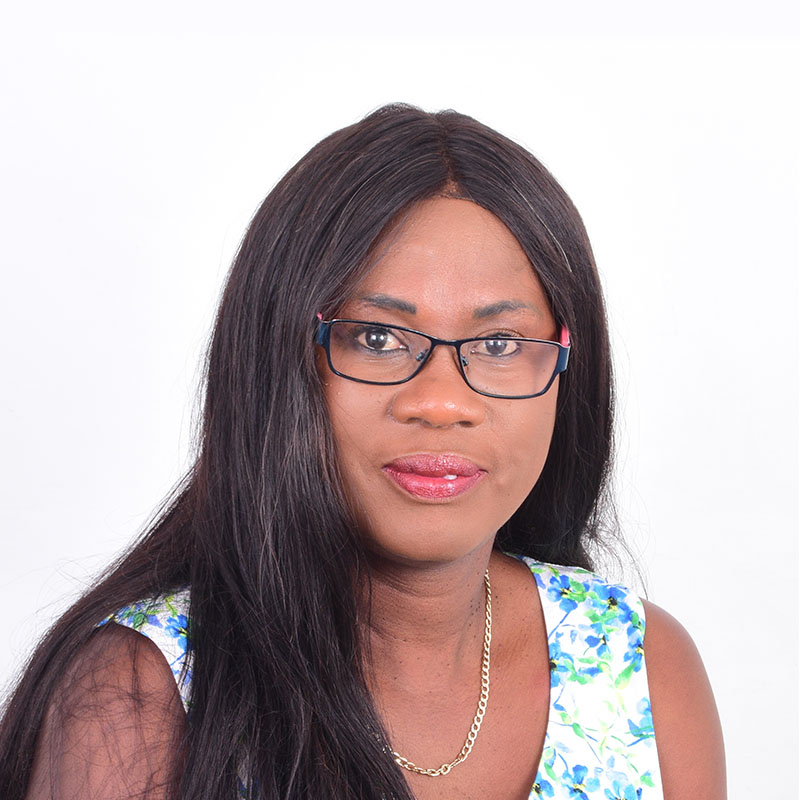 Florence Britton
Director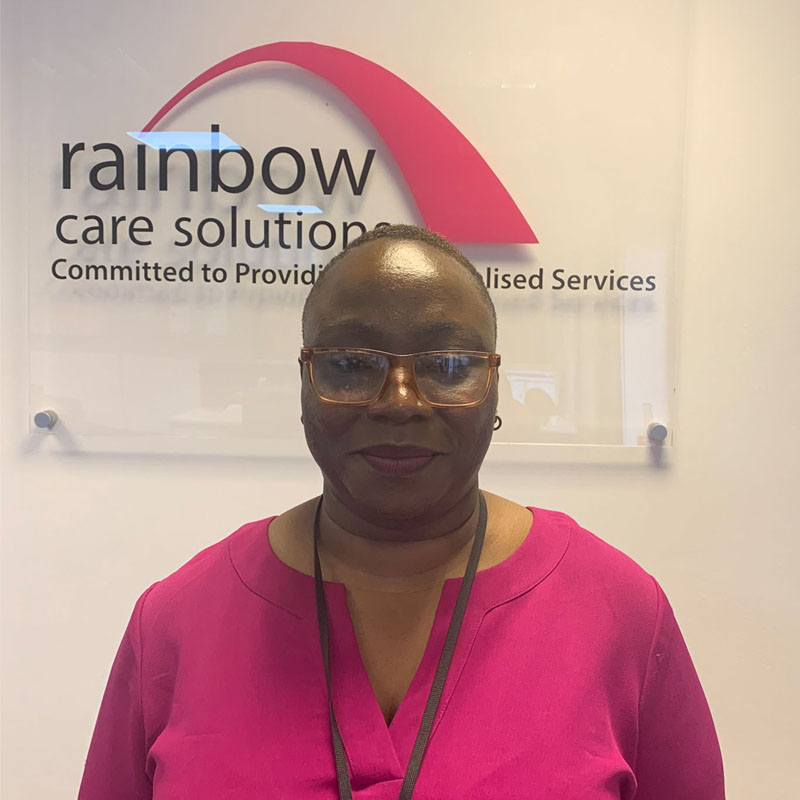 Omobola Thompson
Registered Manager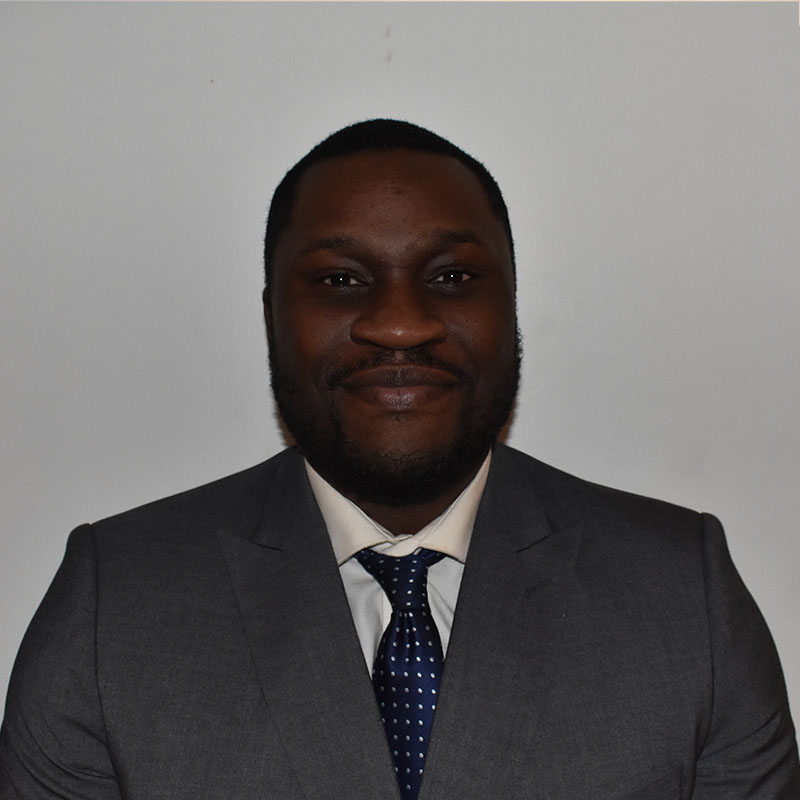 Dalitso Ngoma
Operations Director
Dementia Pledge
Ourselves and our carers are subscribed to the Dementia pledge. This means we're committed to demonstrating four principles in our care, including:
Know the Person Who Is Living with Dementia
Quality Care, Quality Life
Everybody has a Leadership Role
Value-Focused Care
Live in care
A positive and low-cost option to a care home is live-in care that provides you the personal, household and social support you require, either on a short-term or long term basis.
This service gives you the assurance and peace of mind to continue living the life you choose in your own home, with someone always on hand to provide you with the help and support you need.
Our 24-Hour Care
Be safe in the knowledge that your loved one is cared for 24 hours a day, with our carers offering a friendly face and company to your loved one as well as completing everyday tasks. This service will help establish a routine and provide personal assistance for tasks including:
Our 24-Hour Care
Cooking
Taking Medication
Continence Management
Our team will come to you to provide an assessment for your specific needs, to ensure you get the best quality care.
Our approach to dementia care ensures our clients can continue to live their life, their way in their own home. We aim to make a positive difference at every home care visit.
Rainbow Care Solutions is part of the Dementia Action Alliance, demonstrating our ongoing commitment to improving the quality of life of people living with dementia in the UK.
Our Care and Advice
Each carer provides sensitive and sympathetic services to every patient, with each vastly experienced in dementia to ensure your loved one receives all the care required. Our care ranges from day-to-day assistance to completing specific activities, always ensuring that the patient enjoys each day with the desired care needed.
Domestic care
Juggling everyday tasks with caring for your loved one can prove to be a daunting prospect, leave your chores to the capable hands of the team at Rainbow Care Solutions. Working with clients across the UK, our experts will come to you to complete household tasks to an impeccable standard. While our sitting service allows you some free time, safe in the knowledge your loved one is in capable hands.
Dealing with Day-to-Day Tasks
Our staff will come to your home to help with everyday tasks, always providing a friendly and punctual service for any tasks that need completing. We will make regular visits, providing a friendly face and conversation while completing your household tasks to an impeccable standard.
Such is our experience, we will complete a range of household duties, these include:
Dealing with Day-to-Day Tasks
Vacuuming
Dusting
Folding Clothes
Laundry
Shopping
Washing
Toiletry
Changing Pads
Personal care is a broad term used to refer to help with personal cleanliness and toileting, along with dressing and maintaining your appearance.
It can cover, but is not limited to:
Bathing and showering, including bed-baths
Applying creams and lotions as required
Dressing and getting ready for bed
Oral hygiene
Applying make-up and hair care
Support with shaving
Foot care, especially if you are diabetic need to be extra vigilant with your feet
you to the toilet, including using a commode or bedpan
Changing continence pads, along with cleaning intimate areas
Support moving position in bed, to stretch and prevent bed sores
Changing or maintaining a stoma or catheter bag, or other form of clinical intervention
In getting to know you as a person, your care plan will outline your likes and dislikes, the hygiene or beauty products you want to use and what – and who – you feel most comfortable with. Particular tasks, such as cutting nails, shaving and diabetic foot care, will always be outlined in your support plan with specific instructions for your carer.
Each carer is expertly trained to provide personal care in a way that is discreet and respectful of your personal boundaries. They undertake extensive training where they learn the importance of enabling your dignity and independence at all times.
Even though carers are trained to provide all aspects of personal care, there may be some things you'd prefer to do for yourself. A good carer will always give you space when you want it and encourage your independence wherever they can.